Asset Management Solutions made in St.Gallen, based on the latest findings in financial research
Finreon - The success story Finreon, founded in 2009 as a spin-off from the University of St.Gallen (HSG), has established itself as a competent partner for innovative investment concepts in the field of asset management and investment consulting for institutional clients.
Finreon is best described as a Think-Tank for the development of asset management solutions. Based on clients' needs and extensive professional experience, we transfer the most recent findings in academic research into innovative solutions. Both Finreon and its employees are actively involved in financial research.
Finreon Solutions
Reduction of the carbon footprint
The objective of Finreon Carbon Focus® is not only to reduce the carbon footprint of portfolios with a market-based solution but to neutralize it. Investors benefit from a flexible and consistent sustainability solution - at 100% equity risk premium.
All Finreon solutions are based on the most recent findings in financial research.
Finreon Team
Founder and CEO is Dr. Ralf Seiz, Lecturer in Finance at the University of St.Gallen. The team consists of doctoral candidates and graduates from the University of St.Gallen, the ETH Zurich and other prestigious universities. Team members are actively involved in financial research in order to guarantee a continuous knowledge transfer.
Latest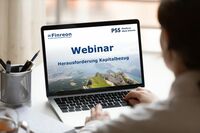 Events
Webinar PSS AG
PSS offers a simple and smart investment solution in cooperation with Swiss pension funds. The focus is on the personal investment goal of the customer. Whether it is the investment of the capital withdrawal or the investment of free assets, in each case PSS offers the ideal investment solution.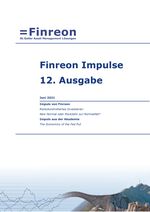 Impulse (only in German)
Finreon Impuls - 12. Edition
Risk-Controlled Investing: New Normal or Return to Normal? The coronavirus crisis hit the market more abruptly than any other crisis before. However, due to the enormous support measures, the recovery was also rapid. Although the crisis cannot serve as a blueprint for future upheavals, it is nevertheless also an expression of increasingly rapid market movements. For investors, the question is how best to manage their risks in such an environment without foregoing the equity risk premium. (only in German available)
Research
Academic research is constantly delivering new findings. The large number of studies makes it difficult to keep track of them all. Finreon points to new research papers that are considered particularly relevant to understanding financial markets and Finreon's solutions.
Contact
St.Gallen (Headquarter)
Finreon AG
Oberer Graben 3
CH-9000 St.Gallen
Tel.: +41 71 230 08 06
E-Mail: info@finreon.ch
Zurich Office
Finreon AG
Mühlebachstrasse 65
CH-8008 Zürich